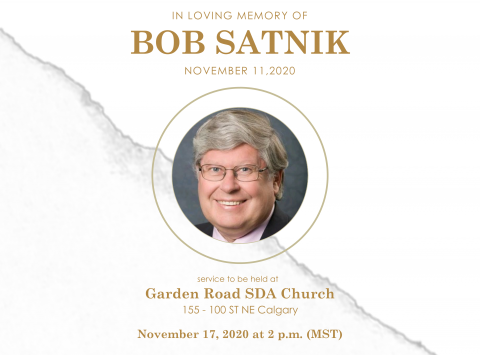 We are celebrating the life of our beloved brother in Christ, Bob Satnik. He was a pioneer and beloved member of the Garden Road SDA Church. He had a wonderful heart for Jesus. He was a loving husband, a caring father and a compassionate friend to the community. He will be missed.
On November 3, 2020 Bob Satnik had a massive heart attack from which he did not recover. On November 11, 2020 he passed away. His wife Anne Satnik was by his side. We ask that you continue to pray for the Satnik family during this difficult time.
COVID-19 Registration Form
At this time, because of the current COVID-19 climate, anyone hoping to attend the funeral in person must preregister. Please complete the form below if you wish to attend. Additionally, all those in attendance will be required to wear face masks and adhere to social distancing rules. We truly appreciate your cooperation at this time.